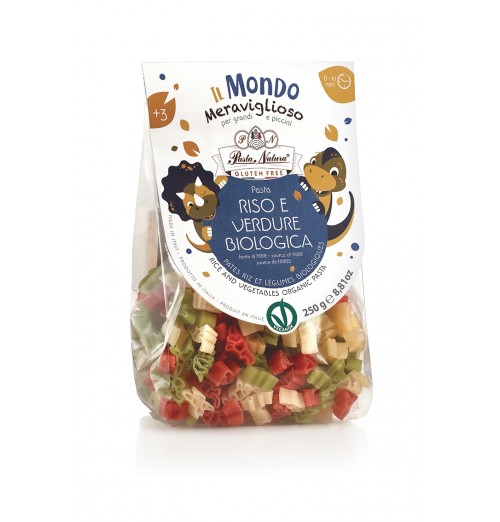  
PASTA RICE AND ORGANIC VEGETABLES THE WONDERFUL WORLD
Pasta Il Mondo Meraviglioso rice and vegetables is a concentrate of well-being and taste for your children. Lunch to discover the baby dinosaurs is more cheerful and tasty!
With Il Mondo Meraviglioso by Pasta Natura you can live great and delicious adventures at the table. Cute baby dinosaurs will accompany your children to discover the taste of vegetables in a colorful dish of gluten-free pasta. Il Mondo Meraviglioso pasta is not only fun, but also tasty, made with naturally gluten-free flours without the addition of dyes or preservatives. Playing with shapes and colors is a way to convince even children inappetent, involving them without forcing them and helping them to establish a relationship with healthy and functional food for proper growth. We have designed it for the little ones, but The Wonderful World is appreciated by everyone.   
The good of pasta rice and vegetables organic
Riso and vegetables is a winning combination at the table, especially when it comes to the nutrition of children who need a good supply of vegetable nutrients to grow healthy and strong. Not all children like to eat vegetables, so you can whet their appetite with a good plate of pasta Il Mondo Meraviglioso, naturally gluten-free pasta made with rice flour and vegetables. Introduce our cute baby dinosaurs seasoned with your kids' favorite ingredients, you'll see how quickly they'll empty their dishes! 
The nutritional properties of the flour rice and vegetables biological choice to combine rice and vegetables was not at all accidental. Il Mondo Meraviglioso is proposed as a complete and nutritious dish suitable for children in the growth phase. Rice is an excellent source of carbohydrates, and provides the energy reserve to grow, play, study. In addition, rice is easy to digest and does not weigh down. The good amount of fiber also helps the proper functioning of the intestinal tract. About the benefits of vegetables for children you could talk for hours. For the small consumers of Il Mondo Meraviglioso we have chosen beets and spinach not only for the perfect harmony of color together with the pasta with rice flour, but for their great nutritional properties. Beetroot is rich in mineral salts, vitamins and trace elements that help counteract the feeling of tiredness and lack of appetite. Spinach is an important source of iron and is rich in vitamins, fiber and antioxidants. That is why The Wonderful World is a perfect harmony of nutrients.
Advice at the table
To taste Il Mondo Meraviglioso you can indulge yourself with different recipes of sauces and condiments. The taste of pasta is balanced and goes well with any ingredient: cheese, fish, meat, vegetables. If the little ones of the house are in the phase in which they eat only white pasta with our proposal you will still be able to present a complete meal. If you have to settle for good forks you can enjoy preparing rustic and full-bodied sauces. Try the pairing with a sauce of ricotta and cherry tomatoes and you will feel that goodness. Mondo Meraviglioso can also be used as a base for a fresh pasta salad to be seasoned with mozzarella, diced ham and cherry tomatoes. The Wonderful World is an opportunity to bring your child closer to the discovery of new flavors: it will be easier to taste products never tried in the company of our baby dinosaurs.
PACKAGING FEATURES
PALLET SIZES
PIECES PER BOX
BOXES PER LAYER
LAYERS PER PALLET
TOTAL PIECES
80x120
10
16
8
1280
100x120
10
20
8
1600
Data sheet
Energy

1493 kJ/352 kcal / 18% RDA

Fat

1.2 g / 2% RDA

of which saturates

0.4 g / 2% RDA

Carbohydrate

77.9 g / 30% RDA

of which sugars

0.4 g / 0% RDA

Fibers

0.9 g

Protein

6.9 g / 14% RDA

Salt

0 g / 0% RDA