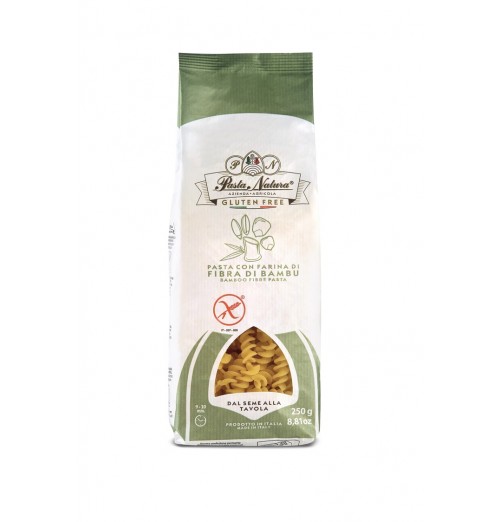  
PASTA NATURA GLUTEN-FREE BAMBOO PASTA
For a delicate first course, with innumerable beneficial properties, try PASTA NATURA's gluten-free bamboo flour pasta. Bamboo has antibacterial, antioxidant and re-mineralizing qualities. Why not bringing these benefits into a good pasta dish? We patiently wait for the slow drying at low temperatures to have a high-quality pasta that stays firm after cooking. Pasta, as you know, should be eaten "al dente". We use bronze drawing, which makes our pasta rough and porous, ready for the sauce. In our ingredients you won't find any products of animal origin: you can prepare delicious dishes with our bamboo flour pasta.
The good of bamboo flour pasta
PASTA NATURA bamboo flour pasta is delicate from every point of view: it has a light colour and a light flavour, halfway between white asparagus and artichoke. Preparing a first course with bamboo flour pasta is a pure gesture of love to the people who sit at your table: bamboo's beneficial properties are really many and very important for the body. You can prepare light and tasty dishes, suitable for your special occasions.
Bamboo flour's nutritional properties
Bamboo is considered as "vegetable steel" for its extraordinary characteristics and versatility in use. It's part of the traditional diet of different cultures, it is a food with antibacterial, antioxidant and demineralising qualities. PASTA NATURA decided to bring these beneficial properties into a good pasta dish, proposing bamboo flour pasta. Available in all the classic shapes bamboo flour pasta is rich in fibres, vitamins and minerals. The intake of carbohydrates and proteins is well balanced, for a healthy and genuine diet. Naturally gluten free, it is suitable for celiac people, for those who have high cholesterol and for those who fight constipation. Bring on your table a completely innovative pasta dish, with a high nutritional value and numerous beneficial properties.
Cooking tips
For a gourmet recipe, balanced from a nutritious and taste point of view, try PASTA NATURA's bamboo flour pasta with chicken and snow peas. If you are looking for a different and tasty recipe, try it with some purple cabbage and a vegetable-based cream. For a light and quick dish, suitable for your daily nutrition, prepare bamboo flour fusilli with lemon, chopped parsley and Parmesan. PASTA NATURA has excellent cooking properties, it remains firm to the bite and doesn't overcook: every dish will always be "al dente" and every recipe will be a success.
PASTA NATURA's bamboo flour pasta is produced in the following shapes:
penne, sedanini, casarecce, mezze penne, fusilli, maccheroni, conchigliette, ditalini, gnocco sardo, stelline, chifferini
AVAILABLE WEIGHT 250g
PACKAGING FEATURES
PALLET SIZES
PIECES PER BOX
BOXES PER LAYER
LAYERS PER PALLET
TOTAL PIECES
80x120
10
16
8
1280
100x120
10
20
8
1600
Data sheet
Energy

1391 kJ/329 kcal / 16% RDA

Fat

1.6 g / 2% RDA

of which saturates

0.2 g / 1% RDA

Carbohydrate

68 g / 26% RDA

of which sugars

2.9 g / 3% RDA

Fibers

8.8 g

Protein

6.5 g / 13% RDA

Salt

0.003 g / 0% RDA