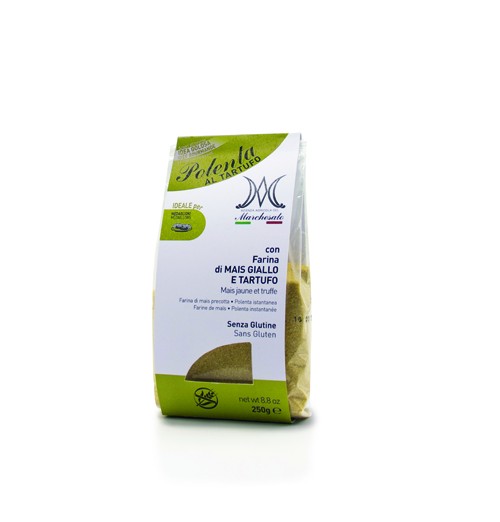  
MARCHESATO TRUFFLE POLENTA
IL MARCHESATO TRUFFLE POLENTA with precooked corn is very easy to cook. In just three minutes you'll get a tasty and fragrant polenta, to garnish with all your favorite ingredients. Polenta is a tradition italian dish, it finds space in multiple recipes of regional specialties. With this Polenta with Truffle you can make them all. You can enjoy it as soon as it is ready, hot and soft, or sliced as a base for tasty creations after letting it cool. You can garnish these slices of cool polenta with delicious sauces (tomato sauces with champignon, fondue, cheese cream, vegetables..)
NUTRITIONAL VALUES FOR 100 G
Corn is considered a very important food for health. It has high nutritional values and it is rich in folic acid and vitamin B1, therefore very suitable for the diet of children and for pregnant women. The richness of iron and mineral salts makes it a good variant of red meat. It is a highly digestible food, therefore ideal for any type of diet. The summer truffle should not be appreciate only for its excellent organoleptic properties, the richness of fibre, mineral salts and proteins but should be appreciate also from the nutritional point of view. Polenta with Truffle is a good dish to enjoy with friends and family on cooler days.
COOKING ADVICE
Precooked MARCHESATO POLENTA with summer truffle has a surprising taste. The choice of summer truffle is dictated by the desire to offer a product with a strong flavor but not excessive, in order to meet the favor of many palates. All your guests will appreciate your Marchesato Polenta Truffle recipes. You can prepare Polenta with Marchesato Truffle and serve it with mushrooms and walnuts. If you want to bring a more elaborate dish to the table, make tasty medallions of polenta stuffed with cheese and cabbage. Proceed as follows: prepare the polenta, put it to cool and with a pasta bowl make some discs a couple of centimeters high. Except sauté the cabbage in a pan, arrange the polenta medallions on the baking tray, let's dress them with the cabbage and cover them with your favorite cheese. After that you can Put the baking tray in the oven just long enough to melt the cheese and serve on the table while it is still hot.
POLENTA AL TARTUFO MARCHESATO
Data sheet
Energy

1424 kJ/336 kcal / 17% RDA

Fat

1.6 g / 2% RDA

of which saturates

0.7 g / 4% RDA

Carbohydrate

71 g / 27% RDA

of which sugars

0.7 g / 1% RDA

Fibers

1.6 g

Protein

8.5

Salt

0.5 g / 8% RDA