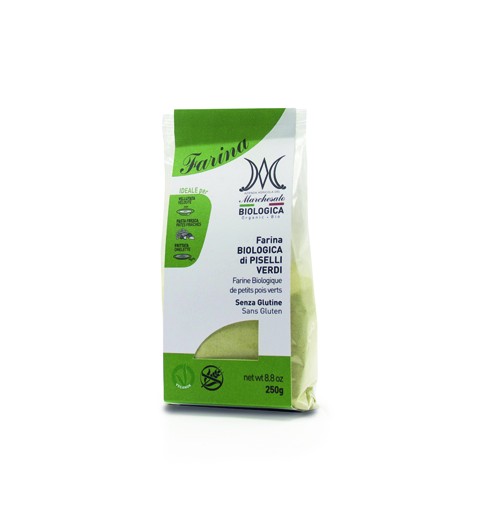  
ORGANIC GREEN PEAS FLOUR MARCHESATO LINE
ORGANIC GREEN PEAS FLOUR – MARCHESATO LINE Organic gluten free green pea flour is rich in protein and fiber. Peas are among the legumes most loved by children. Thanks to their sweet and delicate flavor they are ideal for making different preparations. With the same versatility of the legume, you can use the green pea flour of Marchesato line to obtain many recipes. Not only for soups, use pea flour also to make more creative dishes such as tasty savory crêpes or colorful loaves to be stuffed with your favorite ingredients. With green pea flour you will bring summer to the table in any season
THE GOOD TASTE OF GREEN PEAS FLOUR
The color at the table stimulates conviviality, whets the appetite and promotes good mood. Thanks to green pea flour you can make colorful and tempting dishes that no one will be able to resist. The green pea flour of Marchesato line derives from an organic production. The needs of the most attentive people, who are looking for a healthy diet based on genuine and natural foods, will also be satisfied. Bring the party to the table, with the tasty organic flour of green peas from Marchesato line.
NUTRITIONAL PROPERTIES OF GREEN PEAS FLOUR
Green peas are legumes rich in protein and fiber. Thanks to its important energy supply, pea flour is suitable as a main ingredient for preparing unique dishes. Peas also contain potassium, an element with diuretic properties. Consuming pea flour regularly brings benefits to the body, promoting the rebalancing of the intestine. The elements present in peas, and therefore in flour, contribute to the production of important fatty acids that perform numerous physiological functions within our body. The dishes prepared with the organic green pea flour of Marchesato line are healthy and tasty, try it immediately in the kitchen.
Cooking Tips
Green pea flour is very versatile. If you love original recipes you will surely find many ways to use it. Once tasted you will not be able to do without it, its full taste, but at the same time delicate. It goes well with every ingredient. If you want to make a simple recipe, but with great nutritional value, do so: get patties with pea flour to be used to enrich salads. Better if baked rather than fried. For the salad, combine chopped boiled ribs, thinly sliced raw fennel and seasoned green olives, all garnished with EVO oil, chilli pepper and orange peel. You will get a very tasty complete dish to be eaten for lunch, when the time available for the meal is limited, but you need to eat healthy and nutritiously to face the long working afternoon.
FARINA PISELLI VERDI MARCHESATO
Data sheet
Energy

1464 kJ/346 kcal / 17% RDA

Fat

1.4 g / 2% RDA

of which saturates

0.4 g / 2% RDA

Carbohydrate

57 g / 22% RDA

of which sugars

3.5 g / 4% RDA

Fibers

7.0 g

Protein

23 g / 46% RDA

Salt

0.01 g / 0% RDA