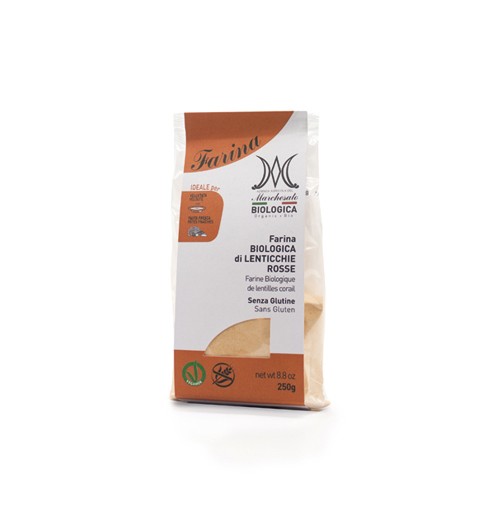  
ORGANIC RED LENTILS FLOUR MARCHESATO LINE
ORGANIC RED LENTILS FLOUR – MARCHESATO LINE Red lentil flour of Marchesato line is a concentrate of taste and well-being. It is rich in proteins and carbohydrates, perfect for those who want to eat in a healthy and balanced way. The glycemic intake is contained. The red lentil flour is suitable for use in multiple preparations. With this fantastic ingredient you will satisfy the tastes of the whole family. Children will love your colorful preparations embellished with their favorite ingredients: the taste of red lentils goes with everything. Get creative in preparing tasty dishes and delicious desserts, with red lentil flour every recipe is a success.
THE GOOD TASTE OF RED LENTILS FLOUR
With the organic flours of Marchesto line you do chromotherapy at the table! Red represents energy, increases dynamism, stimulates hunger, enters and brings joy. Pancakes, bread, biscuits, crackers, desserts, bring a breath of red to the table with Marchesto red lentil flour. Due to its characteristics, lentil flour is used to prepare lightly leavened foods. The absence of gluten does not favor the growth of the dough, so to make bread with lentil flour you have to mix it with glutinated flour, or it is used in purity to obtain excellent bread on stone, porridge, biscuits and crackers.
NUTRITIONAL PROPERTIES OF RED LENTILS FLOUR
The red lentil flour, in combination with cereals, can be used to make complete dishes from the nutritional point of view. Lentils are an important source of iron, therefore excellent substitutes for meat. They are also rich in fiber, zinc, antioxidants and phosphorus, therefore they strengthen the body and help regulate its main functions. Lentil flour has excellent satiating power, so it is ideal for people who want to lose weight. The energy intake of lentils is quite high, but with a low glycemic index. It also has no trace of cholesterol. It is an excellent food to feel strong and fit without weighing it down. Like any other legume, red lentil is also appreciated for its contribution of vegetable proteins.
COOKING TIPS
The use of lentil flour in baked goods improves its softness and brings a pleasant note of flavor. The most classic use of lentil flour, that is, the creation of a tasty soup is highly recommended for dinner, a warm pampering to release all the stress accumulated during the day. The red lentil flour is also excellent to use for breading, in combination with spices it gives an extra gear to your dishes. If you want to surprise your guests, use it to prepare a tasty gluten-free "farinata" to flavor with rosemary. For the little ones at home prepare delicious meatballs with a soft mozzarella heart, with this simple recipe you will conquer everyone, so we recommend preparing them in abundance.
FARINA LENTICCHIE ROSSE MARCHESATO
Data sheet
Energy

1312 kJ/312 kcal / 16% RDA

Fat

1.8 g / 3% RDA

of which saturates

0.4 g / 2% RDA

Carbohydrate

49 g / 18% RDA

of which sugars

1.4 g / 2% RDA

Fibers

6.0 g

Protein

22 g / 44% RDA

Salt

0.01 g / 0% RDA