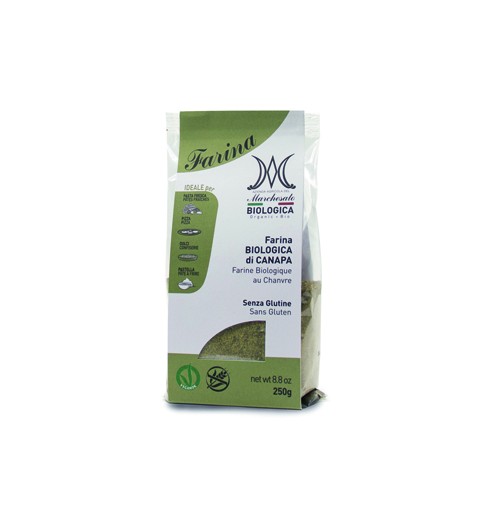  
ORGANIC HEMP FLOUR MARCHESATO LINE
ORGANIC HEMP FLOUR – MARCHESATO LINE Hemp flour is an exceptional ingredient. It gives a toasted and nutty taste to the preparations and a beautiful burnished color that tastes of traditional rusticity. It is used both to prepare sweet and savory recipes. We recommend using it mixed with other flours and not in purity. The percentage of hemp flour to be used depends on the desired result, whether more or less homemade. Hemp seed flour is gluten free and therefore ideal for the nutrition of people suffering from celiac disease. Its versatility in the kitchen makes it loved by everyone, working an ingredient so you will immediately feel a great chef.
THE GOOD TASTE OF HEMP FLOUR
The toasted and nutty taste of Hemp flour is perfect for enriching traditional baked desserts. Surprising is the extra gear that gives to savory preparations, such as pasta, bread, savory pies and vegan burger. The possibility of indulging in the kitchen with this fabulous ingredient is almost infinite. In addition to being so greedy, hemp flour is also rich in good nutrients and highly digestible, a concentrate of health and goodness for your table with Marchesato flour.
NUTRITIONAL PROPERTIES OF HEMP FLOUR
Hemp flour is highly appreciated in the kitchen for its valuable nutritional characteristics. It is low in calories and high in fiber, just as desired by those on a sports diet. Being a good 100% vegetable and organic food, it is also suitable for the vegan and vegetarian diet. The richness of fiber, potassium, magnesium, iron and zinc of hemp flour makes it an excellent ally of the intestine. Hemp flour is also an important source of vitamin E, an antioxidant that fights cell aging and strengthens the immune system.
COOKING TIPS
The hemp seed flour of Marchesato Line is rich in lipids so it is very important to keep it cool and protected from sudden changes in temperature. There are many recipes for preparing desserts with hemp flour, but today we want to amaze you by advising you to prepare tasty vegan burgers, perfect to satisfy every food need by teasing the palate with a really tasty dish. Just add the hemp flour to the soy milk and start cooking as if it were an omelette. As soon as it warms up you have to work the preparation as if it were a real hamburger by combining garlic, parsley, oil and spices. Once the burger has been cooked, you can indulge yourself in filling the sandwich with sauces and toppings as desired.
FARINA SEMI DI CANAPA MARCHESATO
Data sheet
Energy

1281 kJ/309 kcal / 15% RDA

Fat

9.0 g / 13% RDA

of which saturates

1.2 g / 6% RDA

Carbohydrate

3.1 g / 1% RDA

of which sugars

2.3 g / 3% RDA

Fibers

45 g

Protein

31 g / 62% RDA

Salt

0 g / 0% RDA